Introduction:
Over the previous few years, the Search Engine Optimization audit has changed. While having the appropriate structure and keyword balance on a website is still important in 2021, creating a user-friendly and appealing website and publishing great content are equally critical components of any SEO performance campaign. They're not only important for design now but also for your Google analytics. The better your SEO goals and user experience, the higher you'll rank on Google analytics and the more traffic you'll get.
While Google cannot directly assess the quality of visuals or what constitutes "excellent content," it can track how long visitors spend on a website, how often they click to visit other pages, social signals, and a variety of additional user signals. For example, three of the top four factors in a SEMRush crawler study analyzing the maximum 17 SEO parameters for 600,000 different target keywords are related to their indirect user experience evaluations.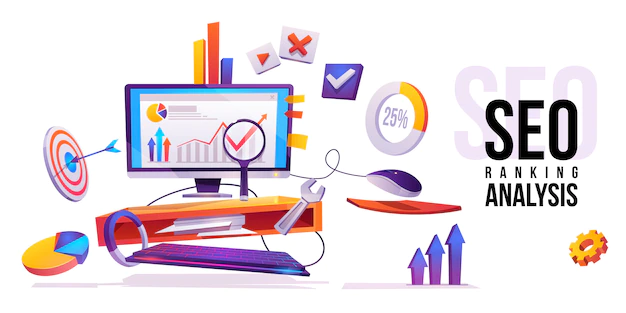 SEO Audit Service Cover:
In our website SEO audit, we look at your site's on-page SEO and backlink type, as well as ask and answer the following questions:
User-Friendly Website Design
Is the site appealing to the eye and mobile-friendly? How can you improve the usability of your website's navigation? Do your photographs add to the overall message you're trying to convey?
Code Audit for On-Page SEO
Is there a problem with the technology? Which pages are missing or displaying errors? What can be done to improve the code from an SEO standpoint?
Researching Keywords
Which potential keywords are the most important for each page? Are there any low-hanging fruit (keyword opportunities with little competition) that you're overlooking? Are the important keywords on your landing pages?
SEO Audit of Content
What areas of your website require more content creation? How can you use compelling quality content to boost your conversion rate? Is your site's blog effective in terms of generating sales?
Analysis of Backlinks
Do you have any high-quality inbound
link profile audits pointing to your website? Are there any links on your page that should be removed or disavowed? Do your link audits and anchor texts follow a natural pattern?
Other Considerations
Other technical issues unique to your site will be identified as part of our manual review. This could include, for example, bad or missing translations, inaccurate Hreflang tags, or a variety of other concerns in a multilingual technical SEO website audit.
We're also pleased to advise SEO professionals in certain regions and perform the aforementioned services independently. Do you need assistance putting our advice into action? Our staff of graphic designers, Drupal and WordPress developers, SEO specialists, copywriters, and link builders will gladly assist with the implementation of the most important changes.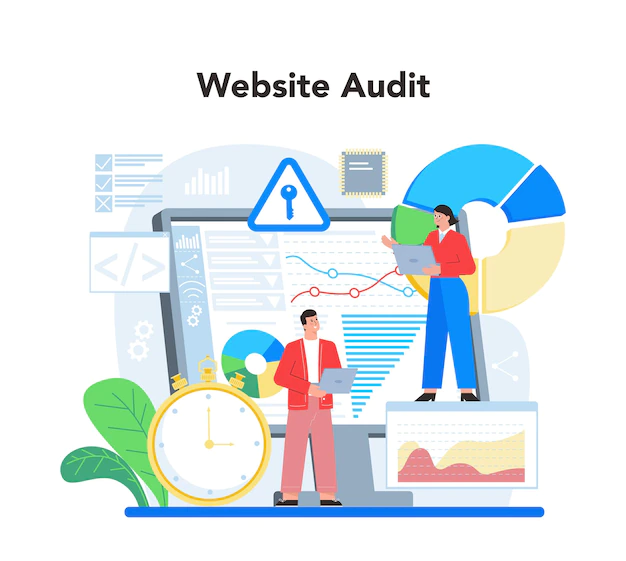 Use r-experience testing — what are other people's thoughts on your website? We also provide user-experience testing in addition to technical SEO audit reports.
We'll select 10 or more native speakers interested in or knowledgeable about your product and ask them to fill out a questionnaire specific to your website. This will assess the importance of, and their personal view of, a variety of different criteria, as well as include some open-ended questions that will allow them to provide extensive feedback.
The organic search will be combined into a single User-Experience Analysis document, providing a clear indication of which issues need to be addressed first, as well as numerous recommendations for enhancing your site. We will also offer specific activities you can do as part of the regular SEO audit to make the most of this input and enhance your conversion rate and SEO agencies.
Examining the graphic style of the website:
There are many ways to create a website; this isn't an area with just one best design. Therefore, we're unlikely to advocate a website revamp unless we do user-experience testing and receive consensus unfavorable feedback on your current design.
Instead, we go over a checklist of variables crucial to your visitors and Google for each audit. Our visual design analysis includes the following:
Is your website responsive, meaning that it looks nice on desktops, tablets, and smartphones?
To see if it passes Google's ranking factor quality criteria for mobile friendliness, utilize Google's mobile friendliness test. A site that passes all of their tests will rank higher load times in Google's search results, and roughly half of all internet traffic is now mobile.
Is it possible for visitors to read all of the content on the site because of the color scheme, font size, and layout?
This includes people with impaired vision or color blind (1 in 12 men and around 4.5 percent of the population are color-blind).
Are the photographs high-resolution and the proper size?
Your website will load faster if you use compressed photos with suitable dimensions. According to DotCom Tools, 53% of visitors abandon a website that takes longer than 3 seconds to load, so anything you can do to speed up the process is a plus, and this starts with your visuals. Is there anything else wrong with the design?
When one of our graphic designers examines your site, they will consider who your target audience is, what color schemes other sites in your industry use, what symbolism you have used (intentionally or unintentionally), and if any obvious design flaws might deter your visitors from making a purchase or calling you. They will then provide specific recommendations for how to improve.
Structure and code analysis for the on-page SEO team:
The unseen code parts that your web developer incorporates into your site might significantly impact how highly you rank in search engines. Unfortunately, many site developers are unaware of the nuances of SEO audit companies. Google, for example, considers an h1> title to be the page's main heading and values relevant h2> and h3> sub-headings.
In most browsers, press Ctrl + U on a PC or Option + Command + U on a Mac to read the source code for a specific page. Your main heading can be found between the h1> and /h1> tags. Only one h1> should be used on every page and should ideally contain relevant keywords. You may discover that your site lacks an h1> tag, has several h1> tags, or has other difficulties, such as utilizing h2> tags to say things like h2>Main menu/h2>, which tells Google that "Main menu" is a significant heading on your site, which it probably isn't unless you're a restaurant.
This is only one example of the many different types of code that we examine. We will guide how to correct any error that we detect.
When we analyze your website structure, we run reports to identify missing pages, pages with problems, and pages with missing or duplicate Meta Titles and Descriptions. We also analyze how different pages link together, the percent of links that different visitors click (as seen above for your home page), and whether some links should be relegated to the footer or if there are other methods to optimize your link structure.
For ecommerce sites, we test functionality up to the point when credit card information is entered because your sales funnel can significantly impact your conversion rate.
All this is done to find and rectify critical errors in the site's code and structure, ensuring that your site is telling search engines what you want it to say.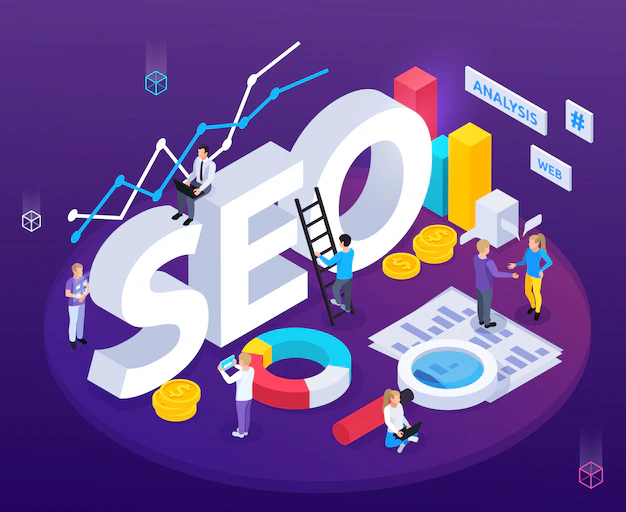 Freepik
Determine the most effective keywords:
Suppose you have a well-established website with a lot of organic traffic. In that case, your top objective is probably to target relevant keywords with many searches and figure out how to beat out the competitors for the first few slots in the search results.
On the other hand, suppose you have a new website with less authority. In that case, it's more of a balancing act: you must first identify keywords with a good low SEO audit process challenge (or keyword difficulty) and a reasonably high monthly search volume and then target them before attempting to rank for the more competitive keywords with very high search volume.
We analyze your site and the sites of your rivals to find the best prospective keywords and produce reports with the following information for each keyword:
Monthly Searches — The number of Google searches for your chosen country every month.
The keyword's competitiveness is an SEO report challenge. This percentage is calculated using the average domain strength of the top 20 websites that appear for this keyword, ensuring accuracy.
If your site is already in the top 100 search results, provide its URL here. If your website is in the top 100 results on Google, this is its current position.
Priority – Based on our manual analysis of the list of keywords, whether it is a first, second, or low priority for you. The focus for both on-page SEO and link development will then be on high-priority keywords.
Is your content capable of converting visitors into customers:
Different regions of your site serve different roles. We'll examine your main landing pages to see how they help you achieve your overall business goals and any duplicate content issues.
When determining whether or not your material transforms, we consider the following factors:
Home page – Your home page can be used for various things. It serves as an introduction to who you are, the products or services you provide, and what distinguishes your business. It is, above all, a portal to the rest of your website. We'll review your home page and suggest new text to use where appropriate to entice as many people as possible to visit the remainder of your site.
Product pages — Keep your target audience in mind when writing product or service descriptions. You should use a more official tone if you're providing a difficult, technical service, such as IT security. A warm, easygoing tone might work better if you manage a vegan restaurant.
We analyze each landing page for an evident call to action in addition to looking at the general tone of your product descriptions. We also ensure it targets relevant keywords in Metatags, URLs, h1 headings, page text, ALT tags, and other places.
Blog — A blog establishes authority in your profession, generates trust with your target audience, and targets keywords that a product page cannot. For additional information, see our guide to creating a company blog.
Meta Titles and Meta Descriptions – Each page has its own Meta Title and Description. We'll give you a report with the Metatags for your site's most significant pages, including optimized Metatags. These display in Google and other search engine results and when a user shares a page on social media. They're an important part of on-page SEO services, and optimizing them is pretty simple.
Conclusion:
The above summarises the main points we examine as part of our website audit service; however, each site is different, and a multilingual ecommerce site that primarily sells products will have different needs than a B2B service site, for example, so that we will tailor our recommendations to your specific requirements.
FAQs:
What are SEO audit Services?
SEO auditing services are expert services that assess your website's SEO issues, including technical, off-page, and on-page SEO, and make recommendations for improving them. In certain cases, SEO site audit services (such as those offered by WebFX) involve the implementation of these recommendations.
What is the purpose of an SEO Audit Checklist?
An Excel spreadsheet can be used to create the audit checklist. HTML elements, proper meta tags, website code, JavaScript, and extensions are all "technical" SEO elements. It is not required to check every aspect of SEO strategists for a technical SEO ranking checklist.
What is the significance of an SEO audit?
SEO audits are significant since they examine your website and point out its strengths and problems in the following areas: Technical SEO analysis – This audit section helps us determine your website's technical health. Technical analysis of SEO also highlights improvements such as crawl difficulties.
What SEO technologies do you employ when conducting SEO audits?
So I can provide you with a comprehensive report for that period, but a report with recommendations may last much longer. Request an SEO technical Audit. The main SEO tools I use today to scan websites and do analysis or forensic assessments for the basic custom SEO audit package are primarily desktop-based crawling tools.
What is the difference between an SEO company audit service and an SEO audit tool?
These SEO audit tools cannot fill in these gaps and provide the particular aspects that necessitate a complete examination.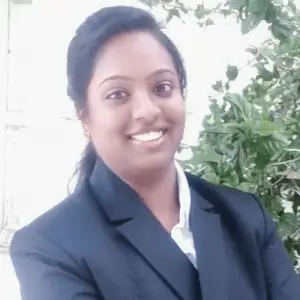 Priyadharshini K.R is a professional blogger with over 3 years of experience who works at Squash Apps. She is dedicated to providing high-quality content to help clients get more visibility on the search engine result pages. She works hard to boost her clients' online presence through various content writing services. Hailing from Erode, she is passionate about helping people understand content marketing through easily digestible materials.