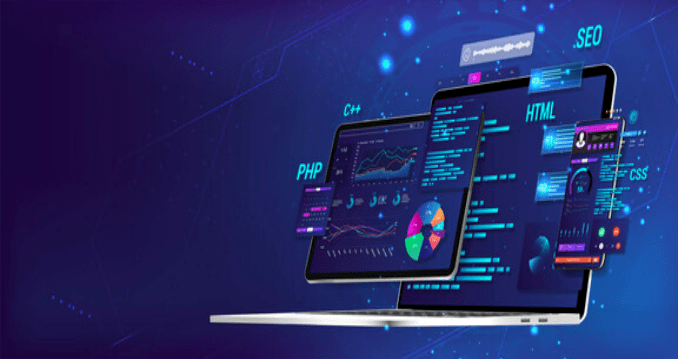 Adobe Stock
Think about how often you've wanted to do something on your phone but couldn't because it wasn't compatible with what they had available. This is where web apps come in, allowing users to access whatever content regardless of platform or device! Here we list some web app ideas for creating new business ventures that will make taking advantage easy.
What is a Web Application?
Web applications are computer-based programs that use online technologies to operate different tasks. These can be accessed through any browser with an Internet connection and used for anything from shopping carts, booking holidays, or just checking the weather forecast.
Web apps and websites come in various shapes, sizes, and functions. It's important to understand the differences so you can choose which one will suit your needs best for building an online platform.
Web applications are all the rage right now, and it's not hard to see why. From social media networks that let you keep up with your friends in real-time or news updates on what's happening around town, these innovative websites have changed how we interact online forever! So if designing an app sounds like something of interest, then click through this article for ten ideas straight from our brains (because who doesn't love a good brainstorm)?
10 Best Web App Ideas to Get You Started
1. A Web App concept for Exchanging Goods with Others
The time has come to start reusing and recycling more! We all know the importance of being environmentally conscious, but even if you don't consider yourself an eco-enthusiast, there are still many things around your house that could use some love. That's why our next web project idea is perfect for anyone who wants their home or business to look more sustainable than ever before.
The app lets you list items for trade, explore other traders' offers and send your own. You can also bargain with other users or exchange additional goods while waiting patiently to see what someone else wants.
This is a great way to create an online community for your company, but it's important that you use safe practices when designing the web app. Never give out any personal information or allow users access from outside their own country in case they're trying scammers who want access through phishing campaigns.
2. Web App that suggests Recipes depending on the Resources you have on Hand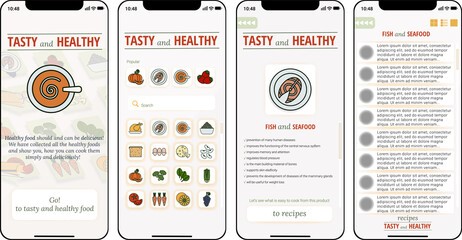 Adobe Stock
We all know that it's not easy to come up with new food ideas for every day. That is why our next web project idea could be the real game-changer, especially when you're tired of making your own cuisine at home or scouring town looking through menus trying to find something tasty.
The app takes the guesswork out of what you should be making for dinner with its innovative and clever cooking feature. It starts by asking users about their ingredients, then offers several recipes based on those requirements before finally presenting all possible combinations that may work well together in one place.
3. Web App for Family Interactions
The idea of a web app that connects families sounds like the perfect way to make life easier. Imagine being able to share your gallery with friends and family, organize tasks by each person in the group (including checking off lists), plan events together using an event planner feature, and even have separate chat rooms for everyone! Sounds great right now?
This web app idea has huge potential and can become really successful if you put in some time to nail down the features.
4. Web Application Concept for Language Exchange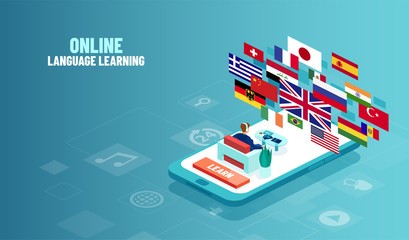 Adobe Stock
Learning a new language is almost difficult sometimes, but not impossible. You could try to learn it all on your own or even consult with an expert; however, there are some things you'll only understand if you speak fluent fluently (natives).
While many cool web apps help you learn languages, they often offer only the most popular international tongue. However, this app allows users unlimited freedom to find someone who speaks their desired dialect and vice versa! The best part is letting users practice NEW content and improve upon existing understanding through listening or reading activities.
5. Recruitment Software
The recruitment process has always been a difficult challenge for HR professionals. With so many applicants and such high expectations, finding the right match becomes almost impossible in some cases – which is why many companies turn to recruitment software when they need help with their hiring strategies.
Appointment settings, job posting, and applicant tracking are some of the most important recruitment management systems (RMS) that every company needs. A customer relationship function should also be so candidates can stay engaged with your business.
6. Web Application for E-learning

Adobe Stock
The world became more cyber-savvy after Covid 19. Elearning platforms have been around for quite some time, but with this incident in our mundane lives, there was an urge to transform a part of outdoor life indoors, and as a result, e-learning web apps began gaining popularity among users who enrolled in online courses or joined communities where they could share questions asked by other learners on different topics related knowledge.
Building a learning platform is really easy and won't take much time if you work wisely. To do so, we highly recommend hiring the best web app developers who customize applications to fit any business model or industry standard.
7. Web Application for Employee Orientation & Training
Orientation is a critical step in the employee journey that needs to be taken seriously. Studies show almost 69% of employees will stay with your company for three years or more if they had an awesome onboarding experience! That's why many companies realize how easy and conventional online orientation can make this process easier than ever before-especially when it comes time to launch new products.
Orientation is a great way for new hires and old alike to get acquainted with their workplace. HR specialists can use online tools that store all the documentation from employee orientations, making them easy to access when needed most (ease of use). In addition, there are step-by-step lessons on what each person needs during onboarding and training materials provided, so people understand how things will be worked around in the office.
8. Web Application for Freelancing
The freelance marketplaces are a hot spot for people who want to work from home or on the side. These sites connect you with potential clients and employers, giving all parties what they need to be successful- whether it's project updates every day of your week.
When building a marketplace, it's important to think about the "default" features. There should be an easy way for freelancers and clients alike to sign up with their profiles showing off what they can do best and, most importantly, being safe while doing so! Another key aspect of any good marketplace is payment gateways that let people buy without having accounts or cards tied into your system, which could potentially get chargebacks later on if something goes wrong at checkout.
9. Web App for Book Review
The joy of reading is inherent in the process. The act itself cannot be duplicated, so many readers strive to find out if their favorite book will make for a rewarding experience like every other good thing they have come across before. The web app idea can help you decide whether or not this would-be treasure island novel has what's needed when all else fails.
Goodreads is a great resource for book enthusiasts, but it could also use some work when it comes to giving honest opinions about the novels. Creating an application with better review systems from both regular readers and critics would be successful in providing users more information on what they're looking at before making their decision final purchase or not! It's also beginner-friendly because you don't need any technical skill set-just creativity enough.
10. Professional Services Web Application
Businesses that offer multi-service web apps have been on the rise. With our busy lives, we often don't have time for everything and would rather focus just where it matters most – getting things done quickly with no effort wasted! So why not build your business around this trend? You could team up with various local service providers to provide diverse services in your area or even nationwide if you're ambitious enough.
Imagine a future where you can get anything from cleaning and pest control to wellness services all in one place. A web app like this makes it easy for users who want quick access, food delivery, grocery deliveries, and more. Building such an interface won't be hard if you have the best UI/UX designers.
Wrapping Up
Web development is an integral part of any business and can be the key to success for your company. With so many innovative ideas out there, you're sure to find one that works best with what it does or doesn't do! You could even produce potential web apps by discovering how technology might solve problems in other industries and then apply them to ours – this will allow us to stay ahead while also providing value through innovation. We should stop repeating ourselves when possible because consumers get tired easily these days.
Contact us to work with a dedicated team of web application development specialists. Your project is our priority!
Frequently Asked Questions
1. What is a web app? Give some examples?
Web apps are applications that can be accessed via a website or the internet. Gmail, Yahoo, and Microsoft 365 are some examples of web apps.
2. What web apps are in demand?
Web trends are always changing, but if you know what they predict for the next year and decade, your business can stay ahead of its competition. Here are a few Web Apps in trend now:
Artificial Intelligence and Bots
Progressive Web Apps
Motion UI
Accelerated Mobile Pages
Responsive Websites
Oviya is an experienced technical writer at Squash Apps. She has hailed from Coimbatore, who is a Literature graduate & fond of penning words that fall right into the contexts! She is a Numismatist, Potterwala, Blogger & has an interest in stories that make a difference in the world! Find me on Linked In!