Introduction:
Even for brick-and-mortar stores that don't do e-commerce, having an online presence is essential these days. Creating a website isn't very difficult with the numerous website design tools accessible. Keep the design concepts in mind no matter which program people use.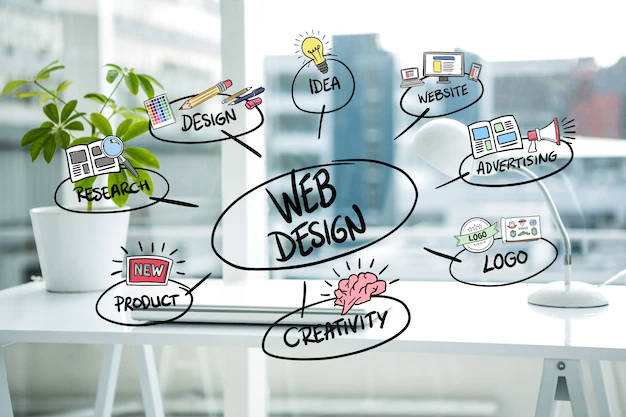 Image Source
We discussed the topic in this blog.
Make your website mobile-friendly:
A website must be mobile responsive to be effective. More than a third do all of the shopping online using a mobile device and spend more than five hours every day on their phones. So, of course, your company's mobile website must provide a great user experience.
If potential clients arrive at your site on a mobile device and find it difficult to read or navigate, they may abandon you in favor of competition. Furthermore, a poor mobile user experience impacts the website's search engine rankings, making it more difficult for users to locate through a Google search – which leads us to our following issue.
Make it simple to locate:
People need a domain name that either fits your organization's name or describes it somehow. It's even possible to have many domains pointing to the same website. To generate visitors to your website, you'll need to use technical SEO best practices, keyword research, content marketing, and paid advertising campaigns.
Make sure contact information is visible above the fold:
If the firm relies on customers to contact you or your sales staff, make sure that information is easily accessible.
If people utilize social media to communicate with customers, include links to your social media accounts in the website's header or footer.
Make it simple to use:
Keeping your top-level navigation menu to five identified tabs with relevant pages organized beneath them is a good idea. You should provide a clear path back to the homepage no matter where your viewers land. A Google search will almost always direct your reader to a page on your website other than the homepage.
Make sure your pages aren't cluttered:
Readers must be able to contextualize information. When a website contains too much information, the mind becomes overburdened and unable to retain new knowledge. Make sure there's a decent balance of text and graphics on the page to keep it looking tidy.
One method to keep things simple is to remove social widgets from your site, such as a Twitter feed. Consider whether you include information that your reader is interested in Interactive. Remove widget material that does not support the page's goal.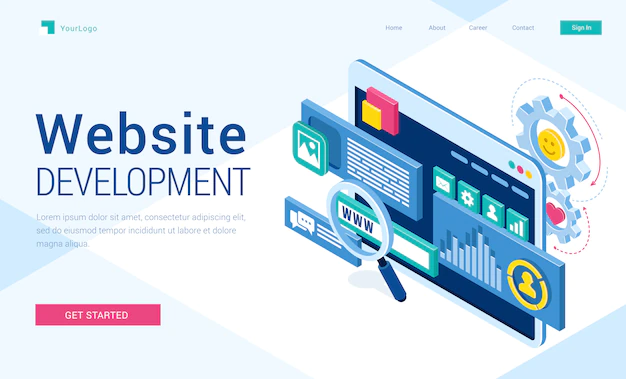 Freepik
Make certain it's correct:
Consumers will be turned off by erroneous information, whether it's a wrong phone number, obsolete product information, or basic grammatical errors. Therefore, you should not only review each page before publishing it but also check it regularly, especially after making changes elsewhere.
It would help if you respected the urge for speed:
According to a survey, if a website takes too long to load, 88.5 percent of web users will abandon it. Furthermore, nearly 70% of online customers say that the time it takes for a webpage to load influences their purchasing decisions.
Keep the website up to date, optimize videos and graphics for faster downloads, and use a website host that can handle the bandwidth demands to ensure that it operates smoothly.
Make a strong call to action:
Every page on your website should urge visitors to take action. In other words, you must issue a call to action to them. These landing pages should entice visitors to call your organization, sign up for a service, buy a product, download a whitepaper, or do something else to help you achieve your business objectives. Give them a visible call to action, such as a button, a link, or unambiguous language. If feasible, keep it above the fold so that readers don't have to scroll to discover the call to action.
Maintain a straightforward design:
Limit the usage of distracting typefaces, colors, and GIFs, which can draw the viewer's attention away from the website's main focus. The content is also more scannable and likely to be read if presented in short paragraphs and bullet points.
It is especially true for mobile responsiveness, which is a crucial element in Google's algorithm for ranking websites. The higher a website's rating on the search engine results page, the better (SERP). If a competitor's website is mobile-friendly, but yours isn't, you may be pushed down in search results for your clients.
Make sure the copy on your website is focused on the customer:
Visitors to your website are looking for information that will benefit them. They come for instructive stuff on your blog at times, and they come to research the items and services you sell at other times. Therefore, you should provide relevant material to engage your prospects, give them something of value, and increase their confidence in your knowledge.
When developing content for your website, try to imagine yourself in your visitors' shoes. What information would be useful to you if you were a potential customer? What level of knowledge or expertise do you already have, and what do you need to know more about? By focusing on your material from the customer's point of view, you can keep them on the site longer and increase your chances of establishing a long-term relationship with them that leads to a sale.
Conclusion:
Building an excellent company website may not be as straightforward as you think. However, if you follow the procedures, your company will have a great chance of prospering in the internet economy.
FAQs:
What are the components of a successful website design?
5 Basic Web Design Elements
1) Information.
2) The ease of use.
3) Aesthetics.
4) Affordability.
5) Interaction with others.
What makes a website successful?
An excellent website design should accomplish its goal of communicating a specific message while also engaging the visitor. Consistency, colors, font, imagery, simplicity, and usefulness are all characteristics that contribute to successful website design.
Which pages on websites are the most important?
Your website's five most important pages
Homepage. The website's homepage is frequently the first impression a potential client has of a company.
Page with information on the author. It is where you show your company's bones what you're made of
A page dedicated to getting in touch with us.
Page of a blog.
The page with the search results.
What are the elements that make up a website?
Navigation, headers and title tags, body text, graphics, and social buttons are the five most important components of a website page that companies must understand and optimize.
When it comes to creating a successful business website, what mistakes should you avoid?
There are six mistakes to avoid (and What to Do Instead)
I don't have a website at all.
You're making it difficult for folks to connect with you.
It is not kept up to date.
You have no idea who you're aiming for.
You're going to design it yourself.
It is not mobile-friendly.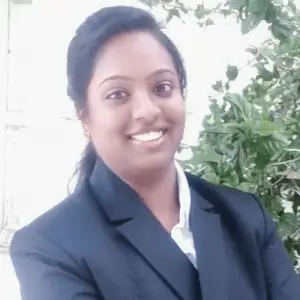 Priyadharshini K.R is a professional blogger with over 3 years of experience who works at Squash Apps. She is dedicated to providing high-quality content to help clients get more visibility on the search engine result pages. She works hard to boost her clients' online presence through various content writing services. Hailing from Erode, she is passionate about helping people understand content marketing through easily digestible materials.