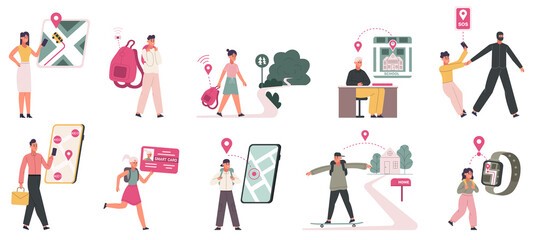 Adobe Stock
The advancement of technology has made the globe more accessible and smaller. Along with that, the actual voyage itself isn't such a huge deal anymore. Any location you want to visit, the hotel you wish to stay at, and the meal you want to try are only a few smartphone taps away. There is now a specific application for all travel scenarios and tourism requirements.
You are headed in the correct direction if your goal is to create a successful travel app. Although there is a lot of competition, investing in travel app development might be worthwhile.
Why? Because revenue from mobile applications has reached 188.9 billion dollars by 2020. Travel applications also have a high chance of paying off for that.
Let's hop on to see how you can develop a travel tracker app and a few examples.
A Six-step Process for Developing a Mobile Travel App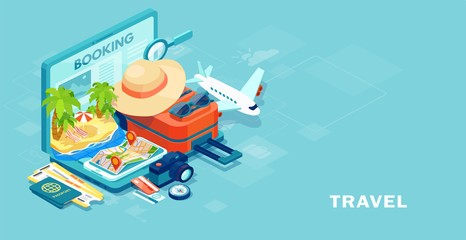 Adobe Stock
Stage 1: Determine the sort of application you want to use.
Choose a travel app from the list of options, including booking, lodging, transportation, and travel guide applications.
Stage 2: Perform a Competitor Analysis
Learn about competing for travel applications in your niche, their benefits, and their drawbacks. Additionally, think about incorporating pre-made travel app APIs.
Stage 3: Choose the MVP Aspects of a Travel App.
Your travel app's MVP should have the following features: a user account, social sharing, bookings, in-app checkout, and location-based search and filters.
Stage 4: Locate the Developers of Travel Applications.
Employ the top travel app development business that can demonstrate its skills via completed projects.
Stage 5: Start the Discovery Process.
Find the most advanced technological solutions, define the vision of your travel app based on current trends, and establish the project's scope and milestones.
Stage 6: Build the Travel Application
Begin the process of developing your app with a development team that will provide the design and code for it.
The Most Widely Used Categories of Travel Tracker Applications
You must choose the type of app you want to design before you can begin to construct a travel tracker app. The most well-liked categories of mobile travel tracker applications are listed below, along with some samples and technical information.
Accommodation Booking Apps
Apps for booking accommodations let tourists browse, reserve, and pay for lodgings. Users of the app may score and write reviews of the places they have visited. The most cutting-edge rental applications also have a check-in option and smart keys.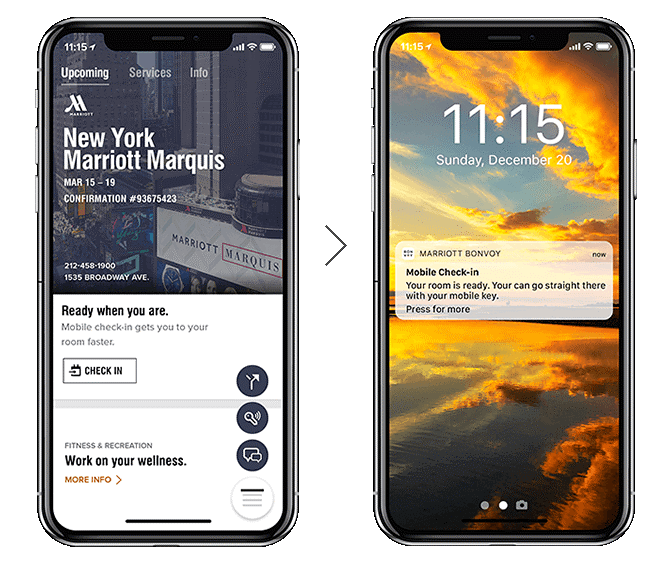 Mobile app – Marriott
The Marriott hotel booking app serves as the ideal example of such an app. A built-in check-in function allows customers to check in before checking in at the hotel. Additionally, the software provides visitors with a digital key to unlock their hotel room's door.
Let's examine the technical aspects of travel booking applications. You may include hotel booking functionality in your travel app using the following methods to save development costs:
Airbnb API
Booking.com API
Zumata API
Travel Guide Apps
A mobile-based app guide gives users access to nearby landmarks, activities, and insider knowledge. After visiting a location, visitors may write evaluations and suggestions to share their insights with other app users. You may provide consumers with even more value by including text-to-speech capabilities, offline maps, and currency converters.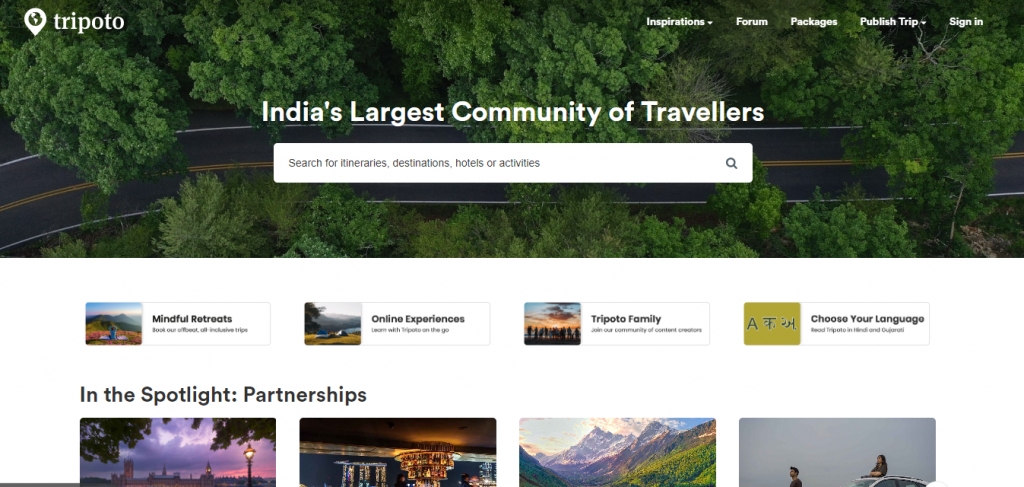 So let's examine Tripoto, a travel guide app, in more detail. The software gives users personalized recommendations for attractions, restaurants, the required travel itinerary, and nightlife after examining material from multiple websites. Triposo offers idiomatic phrases with a text-to-speech function and a currency converter.
Let's explore technology options in more detail. Intelligent algorithms fuel travel guide applications. They collect information from several websites, analyze it, and display a description for each area. You may get data from the following sources to build a trip guide app:
Wikipedia
World66
Wikivoyage
TouristEye
The text-to-speech capability may be integrated by using:
1. The Google Library text-to-speech for Android app
2. The iOS app's Speech Synthesis core framework
Travel app developers may use the following to provide your app voice navigation capabilities:
1. Google Directions API
Transport Apps
Travelers have access to local transportation information and routes thanks to smartphone applications for transportation. Such programs frequently include a geolocation function to pinpoint the user's position and provide the closest transportation choices. Big news: You can give your travel app even more value by having ridesharing cab services.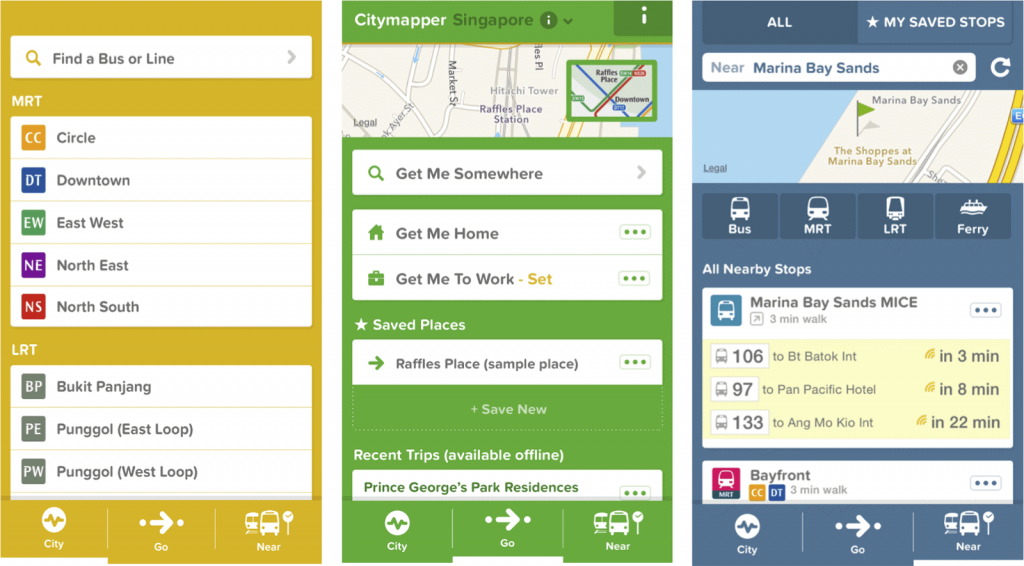 Check out the transport app's design now. Look at Citymapper. Users of this application may get routes with verified information from nearby transportation providers. When using Citymapper, users may type in a road's name, a postcode, or a landmark. The app then displays a transportation choice, such as walking, biking, Uber, or public transportation.
Use: to create a transport application with built-in timetables.
You may incorporate taxi services if you want to add them to the app's feature list.
Uber API
Lyft API
Taxify API
FlightStats API
Key Factors to Take into Account While Creating a Travel Tracker App
There are certain essential factors to think about before you employ the best app developers. The main reasons are that clients can quickly obtain all the info from the mobile version of the website. Therefore, building a unique mobile app is not necessary.
Competitor Analysis
The market is highly competitive, as you can see. The good news is that essential players make their databases and resources available, which relieves you of a significant amount of effort. For instance, the Trip Advisor API provides access to a sizable collection of UGC, which includes reviews and photographs.
The Demands of Users
The demands of your customers should come before your desires to build the unique travel app possible. Who are these individuals? How much do they make? Do they choose popular tourist destinations, or do they prefer to travel to new locations? Here, it would be best if you determined how your concepts will appeal to your audience. Your ability to make a compelling offer to your audience will increase as you get to know, comprehend, and anticipate them better.
Selecting the Right Development Team
Finding the right app developers is critical in developing a travel app. Your crew must share your values and passions in addition to being professional.
Your delivery team should work with you to locate the best-performing solutions, define the idea in light of market trends, and establish project milestones.
In Conclusion
The demand for travel apps is increasing since mobile travel applications make it easier for passengers to plan and reserve their trips. You may select the kind and use one of the monetization techniques if you want to create a travel app.
However, investing a lot in app development is not essential. We advise launching the travel app project as a minimum viable product (MVP) and enhancing it over time.
Oviya is an experienced technical writer at Squash Apps. She has hailed from Coimbatore, who is a Literature graduate & fond of penning words that fall right into the contexts! She is a Numismatist, Potterwala, Blogger & has an interest in stories that make a difference in the world! Find me on Linked In!