Logistics software development is a rapidly expanding business that provides effective manufacturing methods. Thanks to advances in Artificial Intelligence (AI), cloud computing, and the Internet of Things (IoT), the worldwide logistics business is steadily growing. As a result, logistics experts must work smarter, quicker, and more efficiently, using all available resources to boost their company's bottom line.
Companies may save 5-10% on logistics expenses by using logistics software for logistics management. According to research, the global transportation management system industry will reach over $30 billion by 2025.
To improve logistics management, organizations turn to digital solutions and software. These software solutions automate procedures starting with warehouse upkeep and ending with delivery to the end-user.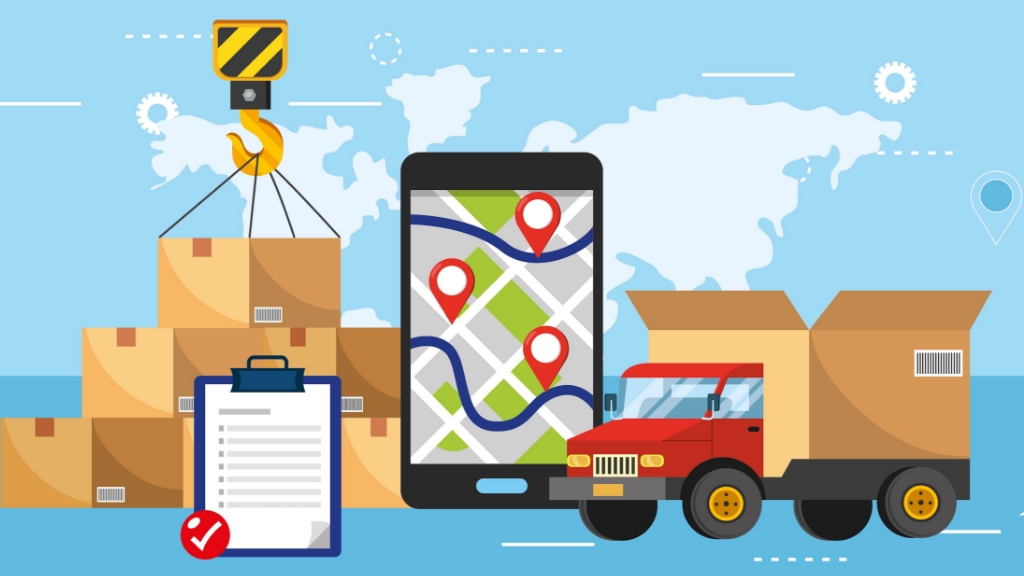 Industry Trends and the Future of Logistics Software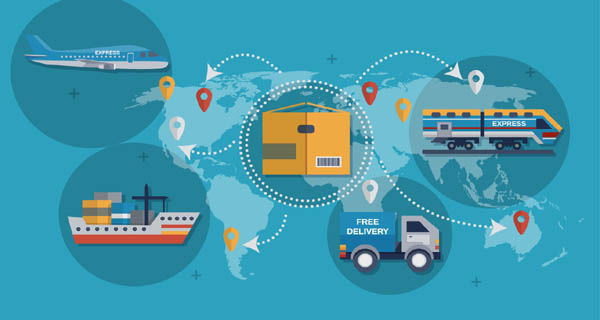 The major tendency in developing logistics software systems is always for more efficiency at reduced prices. Other worldwide trends in logistics software development are; Through Artificial Intelligence (AI) and big data, a logistics software development organization builds specialized software that addresses specific company needs, such as warehouse management and transportation management. 
The cargo, packing, manufacturing, and delivery can be tracked in real-time. Cloud computing has other advantages, such as making programming more economical and flexible. Other developments include:
Digitalization of the supply chain.

A focus on risk management.

Digital security.
The Advantages of Software Development Logistics for Businesses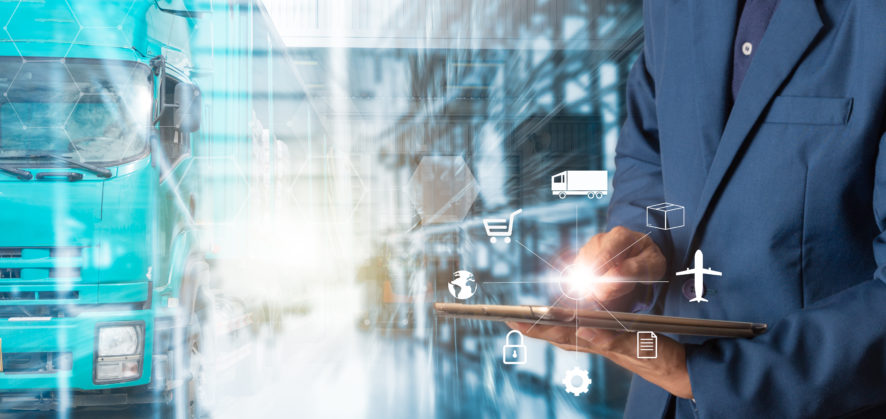 What is logistics software, and how does it benefit businesses? How do such solutions boost productivity? With the help of logistics and supply chain software development services, miscommunication, transportation problems, human errors, and other issues may all be avoided. The advantages of building logistics and operations management software are as follows:
1. Transportation
A transport management system is intended to improve an organization's transportation process. Businesses can track transportation information in real-time thanks to incorporating technology such as GPS.
These solutions are interoperable with various devices, allowing consumers to use them anywhere. A transportation management system must include the following features:
A) Route Planning:
Businesses may cut distances and increase truck capacity by carefully planning and arranging routes. By considering all available cargo, load planners produce appropriate shipping combinations. Average journey time, client location, delivery schedules, and other drivers and salespeople are all aspects the software considers.
B) Payment and Audit Module:
A TMS may use this functionality to compute freight costs, analyze service alternatives, and identify areas for improvement. This enables consumers and carriers to receive rapid confirmation and resolution of overcharging-related concerns. Thanks to connections to ERP or any other financial framework, payment operations can be efficiently handled.
C) Advanced Order Management:
This function assists logistics organizations in determining which warehouse to ship from to save time and money.
D) Analytics and Reporting:
With this tool, businesses may transmit real-time data between distributors, carriers, and customers, resulting in greater accuracy and productivity. Sharing information puts everyone on the same page, improves visibility, and facilitates reporting and management.
E) Messaging Tool:
By including a messaging tool within the TMS software, managers may interact with warehouses and drivers to keep informed about any difficulties during product loading or transfer.
F) Task Management:
This is a form of calendar in which a manager may view all pending tasks and those that have been finished. This simple dashboard aids them in resolving issues, resolving disagreements, and making work plans. Warehouse workers may use this module to create particular product sets.
2. Warehouse Management Systems
Effective warehouse and inventory management is critical for achieving a frictionless production cycle that boosts productivity and profitability in the manufacturing industry. With fully integrated warehouse management software, inventory management, logistics, and supply chain operations are all under your control. 
Our software development team provides full corporate software solutions for warehouse management and inventory control. We employ agile approaches and an advanced technology stack that includes cutting-edge artificial intelligence, big data, and cloud computing.
The Importance of Warehouse Management
Large-scale organizations and enterprises that employ a variety of software solutions to run their warehouse operations have made warehouse management a necessary component. 
Some small businesses handle most warehouse procedures with traditional paper-based methods. Manual mistakes are more likely in paper-based procedures, resulting in significant losses. By automating complicated activities and bringing considerable cost savings, warehouse management systems, on the other hand, prevent such losses.
Benefits of Warehouse Management Software

A) Improved Traceability
Losing sight of your employees in the warehouse may be costly and lead to significant productivity losses. Improved traceability of on-site activities and quicker inventory turnover are two of the most significant advantages of deploying warehouse management software. It gives warehouse operations a lot of flexibility and transparency while retaining the highest level of privacy.
B) Inventory Visibility
The majority of warehouse procedures entail the steady movement of stock and inventory in and out. The ebb and flow of entering commodities, exiting shipments, and items housed in multiple warehouses becomes tough to monitor. 
Enterprises may have total visibility into inventory management and track inventory movements using warehouse management software development.
C) Effective Labour Management
The Workforce Management (WMS) module sets the way for efficient staffing and labor management in warehouse management solutions. 
It helps with time and attendance monitoring, leave management, workforce management, and employee rostering, among other things. 
It also supports intelligent forecasting and job planning using a set of business intelligence tools.
D) Supply Chain Activities That Are More Efficient
The efficacy of warehouse management solutions is closely related to the efficiency of supply chain activities. For efficient supply chain management, a precise balance between the input and outflow of stock and completed items is required. 
In brief, it necessitates using a centralized software system to ensure that shipments are completed on time and that supplies are processed efficiently.
3. Trade Management Software (TMS)
Importers and exporters use Trade Management Software to manage their trade activities worldwide. The major goal of this program is to increase trade partner communication and manage operations from a single dashboard. 
Sanction tools, international tariff data, electronic data interchange (EDI) software, and export and import regulations are all included in global trade management software.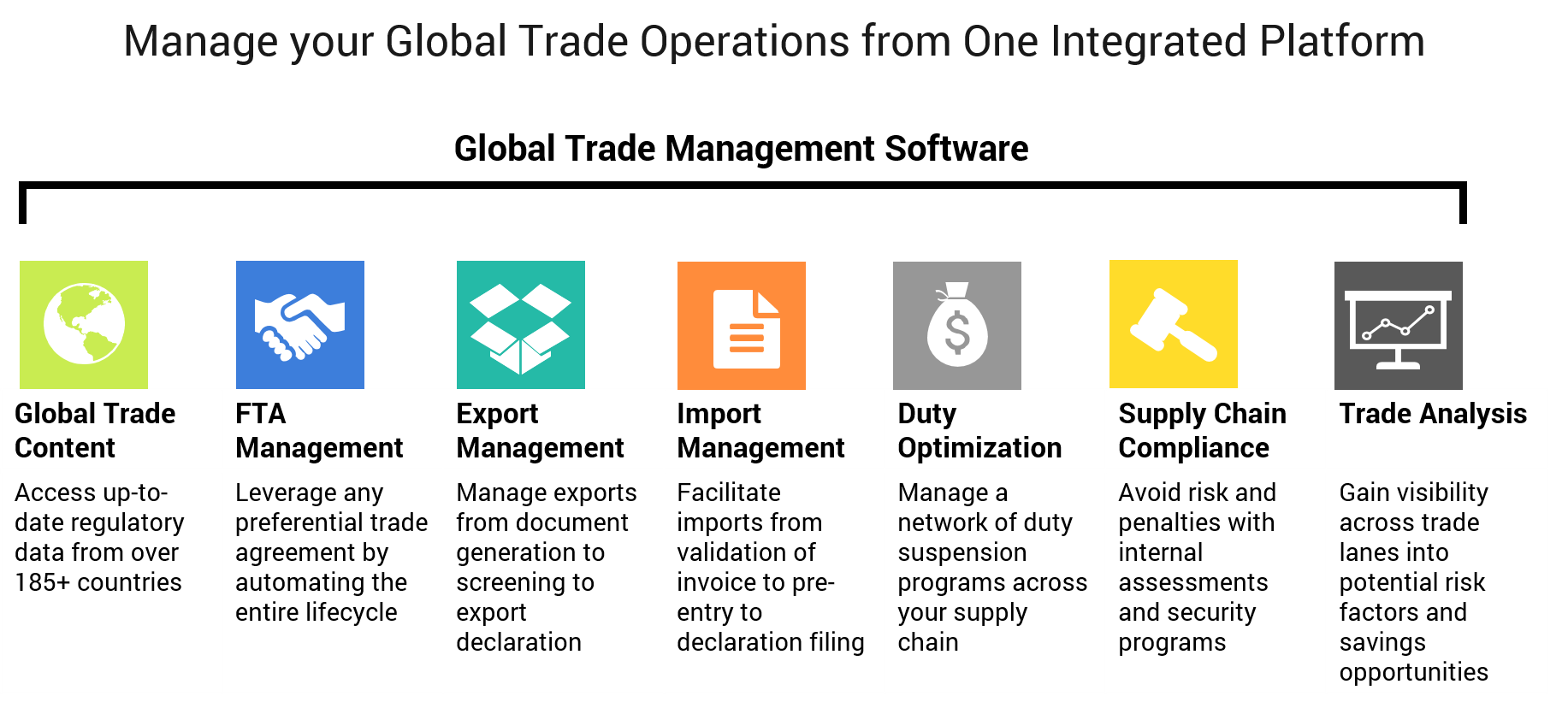 Businesses should manage interactions with suppliers and keep track of their performance using the right TMS software. Managers can see how much they're paying for each item they import and export throughout manufacturing because more trade management software automates the procurement process, resulting in fewer errors and reduced resource consumption. 
After all, logistics managers can now access well-organized data and eliminate manual problem-solving.
Benefits/advantages of TMS:
Billing is automated.

Transportation and warehouse documentation are automated.

All steps of manufacturing and transportation are visible.

Collaboration and data exchange between departments, like sales, customer relations, or project management, are important.
Use Logistics & Supply Chain Software Development Services for a Variety of Reasons
Why is it critical to engage a firm specializing in custom logistics software development?
Scalability is one of the most important criteria. A logistics technology software development company will construct an app or system tailored to your organization's needs. It helps save money because you won't have to pay for features you won't use.
The efficiency element is the second consideration. All-in-one solutions may not be as adaptable and agile as standalone solutions. They aren't customized for your industry. Some businesses require ocean, air, or multimodal delivery. Others function on a smaller scale and require excellent pickup and delivery software. Affordability is another advantage of outsourcing logistics software development.
Technologies Used in the Development of Logistics Software Solutions
A software development engineer in logistics requires a few years of experience in a manufacturing setting, a thorough grasp of production procedures, and good technical abilities. 
Professionals in this field should be familiar with JavaScript, C++, and.NET and have extensive knowledge of Microsoft Office products, SAP, and Access. 
Experts in this field must also know analytical problem-solving techniques such as KPI reporting, gap analysis, and cause-and-effect diagrams.
Custom Logistics Management Software Development
You may have your logistics management software tailored based on your company operations and an in-depth analysis of your requirements. You have to hire a skilled developer to examine your company model and determine which phases of the supply chain you will be working with. 
It assists firms in identifying their unique selling points (USPs) and their limitations to develop remedies. If you wish to develop your business in the future, the sturdy and perfect logistics management software allows for smooth interaction with other modules.
Can Custom logistics software development services help businesses gain a competitive advantage?
YES! Custom logistics software development offers many practical benefits to organizations, making it ideal for any firm, from startup to large. You may, for example, include whatever feature you need to manage your logistics operations, even if they involve the most specialized markets or goods. 
Businesses should be aware that they will receive a solution with a certain set of features that cover the most typical use cases with ready-made apps. At the same time, certain features may never be used, or the most important management functions may be overlooked. If the solution provider offers customization, you should contact them or look for an IT vendor familiar with that application or solution. It costs time and money in both circumstances. 
Observance of requirements Off-the-shelf solutions are inconvenient and unscalable, but bespoke software is more secure since hackers must learn how to hack a specific app's source code. A year's subscription may appear less expensive than developing custom logistics software from scratch, but it will add over time. Custom software development may be an excellent investment in a company's long-term success.
Conclusion
Today, the logistics business is undergoing a significant digital revolution. This change enables businesses to improve their logistics operations by automating and smoothing them out. 
Most companies must choose between using off-the-shelf software and creating bespoke applications. When a firm develops a bespoke logistics application, it invests in a long-term solution that assures its continued and successful operation. 
Small firms don't always need high-end ERP systems from SAP, Oracle, or IBM. On the other hand, developing custom warehouse management software employing open-source technology might be an excellent way to turn things around. It drastically lowers project expenses and gives you the freedom to pick your favorite development method.
If you are someone looking for a logistics software development company to get your first customized logistic software up and running, contact us anytime, and our team of expert developers will be more than happy to help you reinvent the wheels of your business. 
Abhinav Sathyamurthy is a professional blogger with over six years of experience covering technical topics such as blockchain, ERP, AI, and other matters.