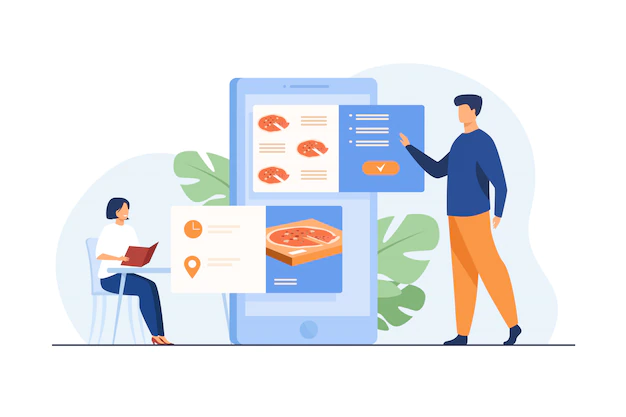 Restaurant mobile app development can seem like a daunting task. But with the right development team by your side, you can create an app that will help increase your visibility and grow your business.
If you're a restaurant owner, staying up to date with the latest technology trends is important to keep up with the competition. One trend that you should consider is mobile app development. A mobile restaurant app can help you reach new customers and increase revenue. This blog post will discuss tips for developing a killer mobile app for restaurants.
With digitalization reigning across industries, eat-outs have been the quick responders to transform their business. They've tried hard to maintain services throughout this pandemic but with mixed success rates and many challenges.
What is a Restaurant Mobile App?
Mobile applications for restaurants have become a standard in today's society. Whether you own an Android or iPhone, there is always some software on your phone to help enhance and facilitate life for us all.
A great example would be restaurant ordering apps which provide users with detailed information about eateries nearby their location, so they can easily decide where to go when craving something specific from one chain store over another. Online food delivery is projected to reach $339 million in 2022, according to the Statista website.
Restaurant apps are a great way to find your favorite restaurants' latest deals and promotions. Some even allow you to make table reservations or check if there's space on waitlists, so no one will have trouble getting in.
The number of people who use apps to order food is growing daily. With such a large following, it's no wonder that Starbucks has started its app in addition to being among the most popular mobile payment options with 31 million users.
Benefits of Creating a Restaurant App:
A restaurant app's ROI (return on investment) is imperative to any business. By developing effective, seamless access for their customers, they can experience increased revenue and growth in the long term. This has been proven repeatedly as more restaurants develop these types of programs.
Creating an app for your restaurant can be a good idea if you are new to the industry or want more customers. The right app can take your food joint to the next level. The opportunities it presents will help you and other businesses like yours get ahead with their marketing strategies and expansion plans.
A restaurant app offers many benefits. Some of the most prominent include:
Build Brand Value:
A mobile application that allows consumers to access and locate nearby restaurants from any place and order their favorite food without being restricted to a device is a definite value addition to the brand. Good connectivity makes all the difference in creating lasting impressions with consumers.
Better Customer Experience:
An elegant and intuitive interface is the key to making an app user feel at ease. The design should be simple enough that it doesn't get in their way, yet feature-rich so they can find everything quickly without having any difficulties or confusion while using our service.
The application's robust features are powered by well-written APIs that keep the program running smoothly for any operation. This enhances user experience and increases productivity, making it a better choice than traditional software packages in stores today.
Better Responsiveness to Bookings:
Providing the best possible customer service includes ensuring your customers can always count on you. The convenience of booking a table through the restaurant's mobile application is an excellent way to ensure that you get all the benefits of your favorite spot. This option allows consumers to finish other tasks while waiting for their appointment.
With the app's help, restaurants can now assign seats to be visible to all. Customers and restaurant staff can plan because everyone knows when their table is available.
Better Payment Process:
The time-sensitive nature of today's consumers means they have a high demand for in-app ordering and online payment options. The customer's payment is the most important part of any online order. Food businesses need an application with integrated third-party payment methods to take care of it from anywhere.
The increase in mobile internet bandwidth has made it possible for users to order food without hiccups.
Loyalty Benefits:
There is no doubt that loyalty programs for specific restaurant apps are a great way to attract new customers and retain old ones. A consumer will download your particular dining app if it offers more deals than other restaurants to keep up with what you're offering.
The user's experience is always a top priority. Push notifications on the latest deals keep the loyal customer hooked to your app to make more transactions, ultimately increasing revenue.
Restaurants are increasingly offering customers the option to order ahead or earn rewards via their phones. It is a good idea, with 92% of all top-performing food service outfits doing so.
Transparent Feedbacks:
The app displays the feedback received on a restaurant's dishes or service. This enables customers to know what others think about their experience, which creates an environment where they can trust that this will not happen again in future visits.
Feedback from customers is an important resource for business owners. It allows them to modify or improve their client's desires, leading to greater success in running a profitable business.
The benefits of developing a restaurant app are immense. From adding new features to existing businesses, there's no limit on how to use these functionalities in your food ordering apps and delivery process.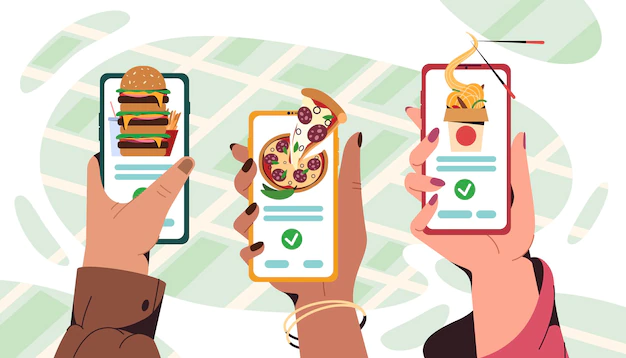 Steps to Create a Killer App For Your Restaurant Business:
Evaluate Your Potential Customers:
The best source of information about your business is your customer base. Find out if they will use the app and for what purpose before you invest time into developing it.
Another consideration when designing an ordering experience for your guests is what they're currently using. Are people placing orders in person or through third-party apps like UberEats? This will help you see if there are any areas of improvement without having to build a new system from scratch.
Menu:
Showcasing your restaurant's menu on an app is one of the most important functions. It allows potential diners to see what you have before they even get there, which increases convenience and ensures that more people download these applications.
A menu is a crucial component of any restaurant. It should be easy to view and choose food. The font should be large enough so people can easily see what they want on their screen without having difficulty reading Ingredients or Portion size information. Also, provide appealing images of each dish whenever possible.
Customers can also receive notifications about new or specialty menu items through the mobile ordering app. With the app's features, your clients can stay updated on what's happening at their favorite restaurants from home or on the go.
Hire Experienced Developer:
The app you're designing needs to be intuitive and easy for your customers, which means they should have an experience with the design. A professional developer will know how best to make this happen.
The restaurant industry is different for developers to work in because of all the required technologies and APIs. Finding a software developer with experience who has worked with restaurants is important since this app requires an intuitive design and streamlined functionality.
App & Brand In-line:
Restaurant apps are great for strengthening your guest's relationship with the restaurant and giving them a touchpoint into what goes on in their kitchen.
The input is about how important it is to have a good design when developing an app. Still, this passage could also apply. "A successful mobile application can be seen similarly from both ends – user-facing (the experience) and back-end engineering."
Integration with Existing Setup:
Integration with your POS system and menu will allow the app to automate parts of customer service that usually need human intervention. This integration can even link rewards programs for increased incentive opportunities.
With a mobile app, guests can order and pay for their meals without having to leave the comfort of their own homes. The enhancements in efficiency provided by this innovative technology are only possible if it's integrated with kitchen ticketing or restaurant POS systems so that you enjoy all its benefits too.
The app allows customers to check out without lining up or waiting. Their name is displayed on an LED display when it's time for them to receive their order so that they can walk straight away.
Restaurants are all in on social media integration due to the popularity of social media presence. This allows them to increase customer engagement and track what people say about food or service online before it even happens.
Tracking Your ROI:
You can track downloads and how much your guests use the app by looking at its analytics. This will allow you to continuously make changes in response to their feedback and optimize it further, so you get more out of this investment.
Consider hiring an experienced software developer from a restaurant app development company if you plan to develop a mobile app for your restaurant. The best technology will set up success, and plenty of other reasons worth the time or money.
Conclusion:
Restaurant mobile app development can help you improve your customer experience, increase customer loyalty, and drive sales. Give your customers easy access to making reservations, viewing menus, and finding directions by making it easy to do so. If you're ready to take your business to the next level with a mobile restaurant app, connect with a reliable restaurant app development company with excellent developers. Create an app that exceeds the expectations of your customers.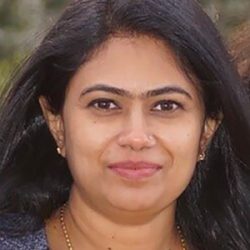 A fun-loving, creative, and passionate writer. Experienced as a curriculum writer for kids at CompuSkool (Information Technology) written interactive learning materials that engaged young minds between 3 to 17 year olds across different technology areas. After a break from writing, now pursuing passion through blogging. Now a technical writer at Squash Apps. Waiting for the future to reveal itself as days unfold.