Adobe Stock
According to a famous adage, if you don't have an online presence, you don't exist. This is a saying that is becoming more and more true as the internet market continues to rule the world of retail. Merchants should see this as meaning that if they do not already have an eCommerce website, they may be restricting themselves from achieving their full potential and income targets.
What precisely does the design of an eCommerce website involve?
Simply put, it sets up an online store for your company to offer products to specific customers. Planning, conceptualizing, and organizing your information and items for efficient online presentation are necessary when designing an eCommerce website.
The eCommerce drive has already started as more businesses and customers are using online retailers to complete their transactions. Walmart's internet sales grew by 97 percent in 2020. Amazon's Q2 revenue and profit increased by 40%. The surge in customer interest in online shopping benefits businesses of all sizes. Make sure your preferred choice has the following tips for a successful eCommerce website design, regardless of the store builder you decide to launch with.
1. Responsive to Mobile Devices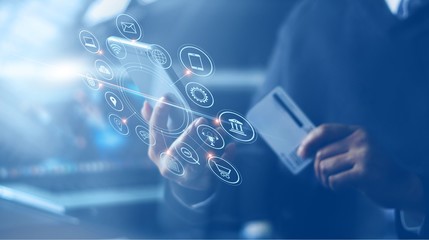 Adobe Stock
An eCommerce website's success depends on its ability to respond to mobile devices. On smartphones, more than 46% of consumers complete their purchasing process (from exploration to purchase). Without any design limitations, a flexible eCommerce platform can guarantee that site visitors using all devices have an excellent experience by incorporating responsive designs.
2. Possibilities for Customization
Beauty is a very individualized concept. However, "good looks" in web design typically refer to a practical layout, aesthetically nice typography and iconography, clear graphics, and other on-site design components that set your shop apart from competitors.
Your business will be forced into the same mold as hundreds of other companies if your eCommerce platform does not offer customization options and appealing ready-to-use templates.
Our professional web development team allows businesses to:
Completely customize your website using different Page Builders of your choice to create a user-friendly design.
Use responsive templates that can be customized to boost mobile sales.
Use contemporary development technology solutions to create your website in half the time.
Provide a unique, enjoyable purchasing experience.
Contact a global network of qualified specialists in website design.
3. Provide a Fascinating User Experience
Adobe Stock
Customers are encouraged by delight to finish their purchase and continue shopping. What stokes that feeling of glee and elevates a brand? Even the finest marketing strategies won't assist if your website doesn't meet their needs. The answer? A thoroughly researched user experience (UX).
UX is essential for making sure your website is not just functional but also intuitive, trustworthy, user-friendly, and simple to browse. These elements make using the site more enjoyable and surfing the site a more satisfying experience.
Consider increased conversions, recurring business, raving reviews, and referrals from friends and family. These are important and might mean the difference between a company's growth and downfall.
4. Utilize Color to Your Advantage
It takes more than just declaring, "Well, red is my favorite color; therefore, let's make everything red," when choosing the colors for your eCommerce site. If you comprehend the psychology of color, you can utilize color as a powerful instrument for your benefit (and bring some serious sales in the process).
If you want your eCommerce website to convert, you must take advantage of the numerous feelings, emotions, and behaviors that different colors may evoke in consumers.
For instance, use a bold color like red to make the purchase button pop out if you want them to make a purchase. Studies suggest that turning a button red may boost conversions by 34 percent. Red is said to evoke sentiments of excitement and passion, which are leading forces behind spending.
Alternatively, add blue to your website's design if you want to increase your credibility. The color blue is famous in the business sector since it is not just generally liked but has also been found to promote sentiments of trust (more than half of all logos use the color blue).
The point is that color is one of your design toolbox's most potent weapons. Knowing how to utilize it may significantly influence your eCommerce design to be a successful eCommerce website design.
5. Simplify the Checkout Process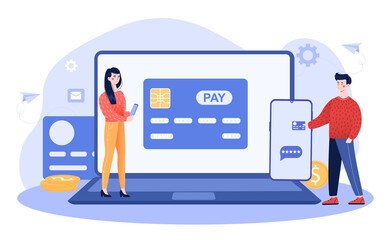 Adobe Stock
You will lose clients if your checkout procedure is a headache. You must make the purchasing procedure and payment gateway as effortless, clear-cut, and painless as possible if you want customers to buy from you.
Ensure the checkout page design is straightforward, uncomplicated, and simplistic. Give your consumers the choice of logging in or using the guest checkout option on your website. Clarify every procedure step, including the information you need to process the transaction (and where to input it) and the various shipping options available (and their associated costs); the procedures regarding if there is a slight issue with their purchased order, payment methods, or they need to return an item. Send your consumers to a confirmation page when the transaction is complete to verify that everything went through.
Simply put, if you want customers to buy from you, create the buying process (checkout process) as simple as possible.
6. Employ the Social Proof
Find ways to highlight the excellent comments you've received from your current consumers while developing your eCommerce website. Include an area for reviews of your items (and then get as many 5-star reviews as possible) and social media integration. Include a testimonials area with client photographs and a comment about their positive interactions with you. Request reviews from consumers and any positive comments they may have to post on your site.
The more visitors to your website can see that other people are enjoying purchasing at your store (via reviews or testimonials), the more trustworthy you'll seem, and the higher your conversion rates will be. This is one of the best eCommerce practices to boost sales.
7. Prioritize Branding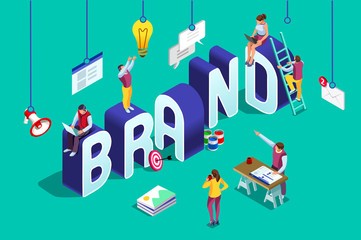 Adobe Stock
People prefer to buy from well-known companies when they shop online rather than anonymous e-commerce sites that may be used as a front to steal their credit card information.
You must give your Branding some extreme attention to establishing the trust necessary to generate significant sales for your eCommerce firm. Your brand is the same as the DNA of your eCommerce firm; it reflects who you are as an enterprise, what the values you stand for, and how you vary from your rivals. Your brand is crucial to bridging with your audience and generating sales.
Spend time defining your brand before incorporating it into your eCommerce development services if you want to get the most out of it. It's okay if you're unsure of your brand's identity. Before you start creating, you should merely take a moment to reflect on your business. Question yourself on things like:
Who would my brand be perceived if it were an actual person?
What three words, if any, would you use, to sum up your brand?
What distinguishes my company from other online stores?
How do we perform on the market better than everyone else?
You may include your brand identity into your eCommerce site's Branding after you know who you are. Branding will promote trust with your audience and increase sales significantly.
Wrapping Up
Designing an eCommerce website might be difficult, but now that you are, as business owners, aware of the best eCommerce design ideas, you are equipped to create a website that looks fantastic and converts like crazy.
You can ring us now to our professional team with domain experts and strategies to build an entire eCommerce website that makes serious conversions at a competitive price.
Frequently Asked Questions
1. How much should I pay for an eCommerce website in India?
A regular eCommerce website cost is between ₹35,000 and ₹80,000 with essential capabilities, while a superior website's design and functionality will cost between ₹70,000 and ₹4,00,000. Price ranges for custom-coded eCommerce website design in India range from ₹80,000 to ₹4,00,000/-
2. What is the most used eCommerce website in India?
In June 2022, Amazon.com has rated the most popular website in the ecommerce& shopping category. Users visit the Amazon website for an average of 6 minutes, typically seeing 8.82 pages.
Oviya is an experienced technical writer at Squash Apps. She has hailed from Coimbatore, who is a Literature graduate & fond of penning words that fall right into the contexts! She is a Numismatist, Potterwala, Blogger & has an interest in stories that make a difference in the world! Find me on Linked In!