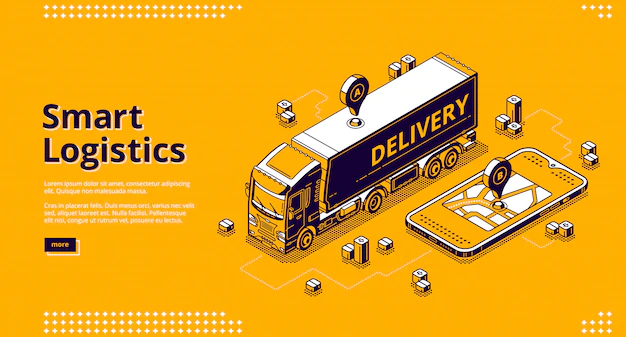 The global economy depends on the transportation sector, which is a vital sector for all industries. However, it is challenging for modern transportation companies to handle the enormous amount of data necessary to deliver goods. 
Transport companies can simplify freight operations, save time, reduce costs, and improve customer services by developing logistical software to automate shipping and freight forwarding activities. Perhaps a universal solution is a transportation management system (TMS). We have covered a few important tips & tricks for software development for Logistic transportation.
What is Transport and Logistics Software Development?
Logistics software development is an important part of warehouse management and shipping to keep the supply chain running smoothly. Every business must manage its logistics needs. They operate better when the right technology is followed.
As we all know, the world and technology are constantly evolving. In the same way, Logistics software development is progressing, and these days, businesses are taking advantage of these features and software to optimize their efficiency.
A major part of the logistics industry uses the latest trends to meet specific business needs. However, few logistics industry trends turned out to be highly in-demand in recent years and continue to help businesses enhance their services.
The expected market valuation for the Logistic Software Market by the end of 2030 will reach around 17.76 Billion with a CAGR of 8.31%.
Let's take a look at the popular logistics trends and find out how they can enhance your business.
Digital Twin Technology:
With digitalization, you can optimize and automate your processes, which helps reduce costs and time. The workflow will become faster and more efficient. The result can even be the digitization of many of your business processes. That is why digital twins technology is one of the trends you need to pay attention to.
The digital twin technology can replicate physical objects, including a product or building, and create a mirror of their processes to test them, be aware of any potential drawbacks, or minimize disruptions in the future.
It can help protect shipments, for example, by collecting product and packaging information by creating 3D models to support infrastructure and test layouts to optimize design and performance.
As a result, it can also be transformed into the solutions used in the delivery process. With a multi-modal transportation management system, you can access real-time data about the vehicle's location, traffic, and other details to build a dynamic delivery network and act quickly.
Blockchain:
Though many consumers are hesitant and influenced negatively in getting associated with cryptocurrencies, the technology can be widely used. When considering logistics, the entire supply chain from factory to consumer is managed entirely by blockchain.
All information about the product, right from the lot number, shipping and expiration date, and manufacturer's details, are stored in the database and allows you to track the product at any stage with your mobile device via a mobile application or web application.
On the other hand, it reduces errors and faster delivery time and securely validates document transactions. Though many logistic companies are successfully using it and optimizing the best service to their customers, few are still unaware of this technology.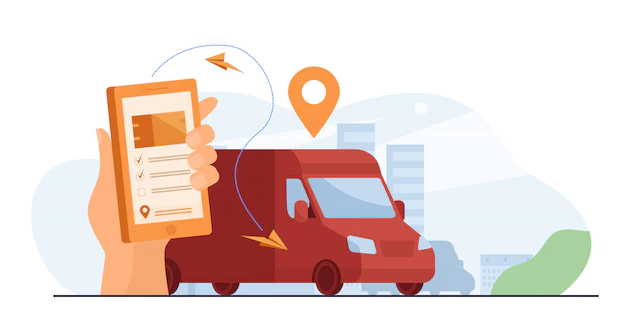 Freepik
Driver Retention:
A supply chain breaks down if you don't have a driver to deliver your goods. This is where you need to have control over your trucks and drivers. You cannot allow the number of deliveries to go down because of a lack of resources or employees.
At this juncture, GPS vehicle tracking and Driver applications can be of great help. There are many apps available to help you in this case, or you can design your app if you don't want to use third-party apps. 
You can outsource a company to develop logistics software for your business, keeping all your needs and requirements in mind. They will help you optimize strategies that your business needs.  In addition to having the right software and applications, you should also consider driver incentives. It will calm down your employees' insecurities about pay or safety matters.
As technology advances, many automotive industries are in trial mode, with futuristic mechanisms like testing drones, self-driving trucks, sensors, artificial intelligence, and other advanced features that can improve efficiency. 
Eco-Friendly Solutions:
Companies that implement eco-friendly solutions will be able to distinguish themselves from those stuck in the past. Almost all supply chain activities impact the environment, and consumers prefer brands that align with their values. These days clients actively support the implementation of recycling methodologies to reduce waste. When you take this step towards the ecosystem, even the client would happily support your decision.
The old fossil-fuel-powered vehicles are being replaced by self-driving trucks and electric delivery vehicles. In addition, most companies use robots in warehouses to sort and pack delivery products. It helps them cut wage costs, minimize human interaction and contacts, and save power consumption because robots can also work in the dark. When these are implemented, it leads to an optimized supply chain and infrastructure service.
Conclusion:
Companies need to constantly search for faster and cost-efficient solutions to keep their clients satisfied. In addition, the industry is changing and will continue to produce new challenges. That is why you have to stay updated and exceed expectations, so you should always be ready to improve supply chain services and move towards operational excellence.
It will be best to hire a company with experience in custom software development for logistics and can help you with the best and updated trends that will suit your business needs.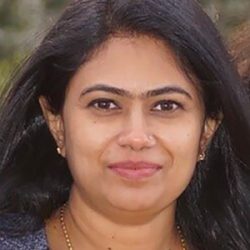 A fun-loving, creative, and passionate writer. Experienced as a curriculum writer for kids at CompuSkool (Information Technology) written interactive learning materials that engaged young minds between 3 to 17 year olds across different technology areas. After a break from writing, now pursuing passion through blogging. Now a technical writer at Squash Apps. Waiting for the future to reveal itself as days unfold.